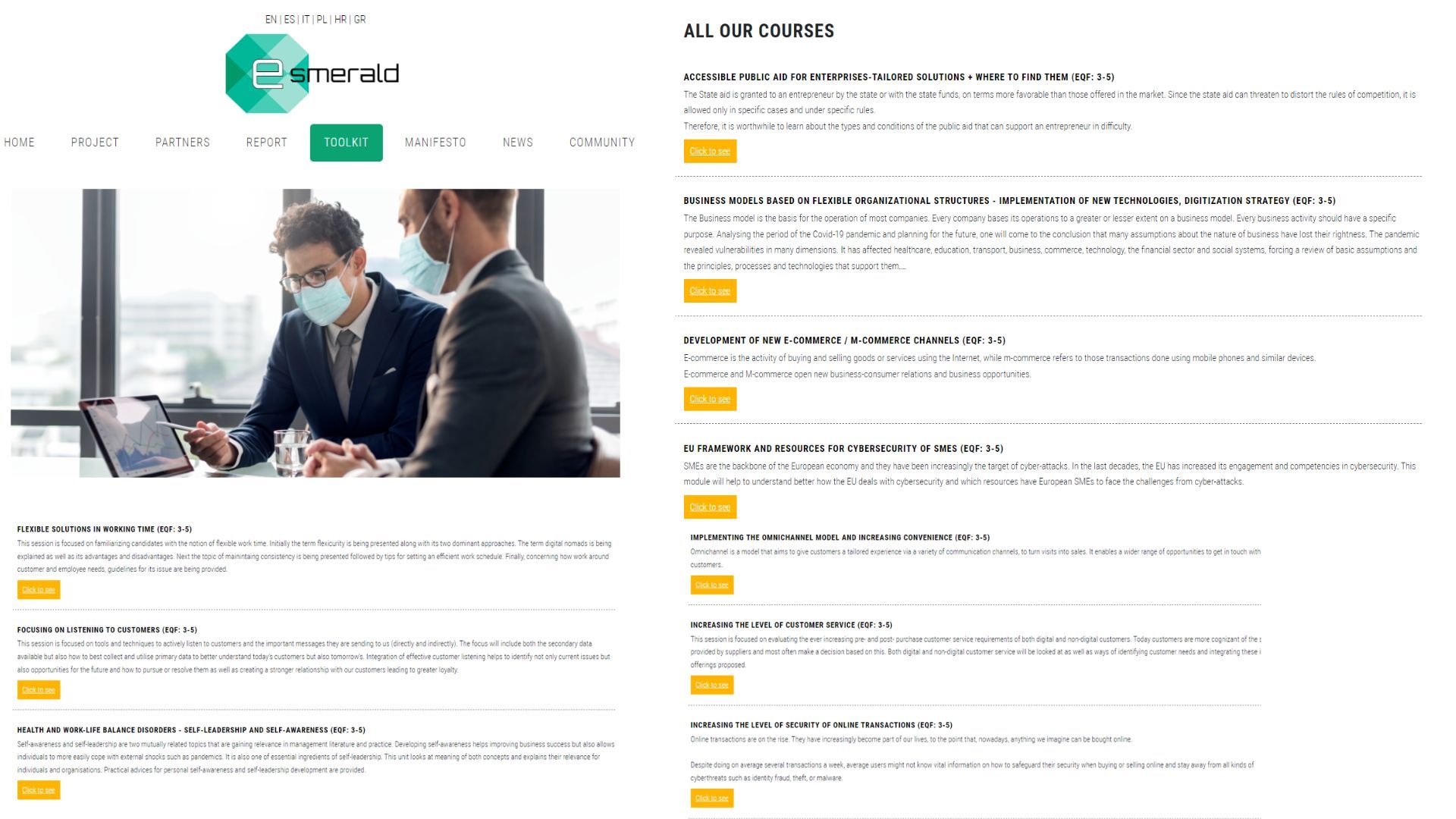 The ESMERALD consortium piloted the training courses and promoted them through multiplier events.
The ESMERALD consortium piloted the training courses and promoted them through multiplier events.
A total of 6 (six) Pilot Studies (validations) were conducted in Poland (two), Greece, Croatia, Italy, and Spain with a pool of participants from across Europe.  Of the 165 participants, 124 held senior leadership/ownership roles in SMEs (75%) and 41 (25%) were university students.  All of the SME categories were well represented by pilot participants (current micro, small, and medium enterprises and future owners and leaders of such companies). 
Pilot participants provided both quantitative feedback (through online questionnaires) and informal (verbal) feedback during the piloting process.
Given the continuing issues surrounding the pandemic, although the majority of piloting took place in face-to-face environments with participants, flexibility was given to provide a similar piloting experience in an online mode (synchronous).  This duo approach was an important addition to our piloting as future learners would only be applying the ESMERALD platform in a virtual space without direct conveyor contact; thus, collecting information from this group was deemed to assist in ensuring that this mode of learning was effectively covered and such views were captured.
Pilot participants were asked if the training provision met their expectations.  Nearly all participants across all of the pilots responded positively.  A small percentage responded "maybe" but none indicated that what they evaluated did not meet their expectations.  This gave us confidence that the materials put together represented the needs of entrepreneurs (current and future).
The Consolidated Pilot Study Final Report is available for downloading through this link
In addition, to enhance the dissemination of the project's products, the consortium held a series of multiplier events.
Seven multiplier events were conducted in Poland (two events), Greece, Croatia, Italy, Belgium, and Spain with a face-to-face audience of 242 and an additional 110 online 352 total.
The objective was to disseminate the project information, objectives and results among stakeholders and main target groups of the project.
The consortia managed to attract attendees representing each of the key ESMERALD stakeholder groups thus ensuring a balanced representation of the final training outputs
From both the formal and the informal feedback from attendees the following was identified:
1 High percentage of attendees were attracted to the event by direct contact by partners and associated organizations
2 Project Relevance: A very high percentage of attendees indicated that the ESMERALD training offering was of high value and important for today's and tomorrow's SMEs
3 Training Topic Relevance: It is natural that different target groups, and different country specificities, will impact the relevance and importance of various training topics.  It appeared that the training devised through ESMERALD will have some longevity given the interest in areas such as all things digital (e.g., cloud, telework), post-pandemic business models, and public assistance for business)
Word-of-Mouth: There was a high level of positiveness of attendees toward informing their network going forward given the practical application of the ESMERALD training offering.
The report of the multiplier events is available for downloading through this link.